M80 roadworks speed restrictions to be lifted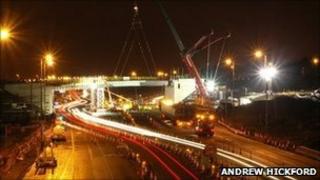 Speed restrictions on a busy stretch of motorway linking Glasgow and Stirling are finally being lifted after more than two years.
A 40mph limit has been in force on the M80 and A80 from Hornshill to Auchenkilns since January 2009, when roadworks were put in place.
But the speed limit for most of that stretch with revert to 70mph on Friday.
Speed restrictions will remain on the southbound carriageway from Auchenkilns to Mollinsburn.
The roadworks have frequently been the cause of massive tailbacks at peak times, sometimes more than doubling the journey time between Stirling and Glasgow.
Central Scotland Police warned commuters that extra police patrols would be on the motorway on Friday to ensure that the traffic was flowing freely.
Ch Insp Donald McMillan, head of the force's road policing unit, said: "I strongly urge motorists to take extra caution on this stretch of road as there may be people who drive at a slower speed because that is what they have been used to for so long.
"Just because the speed limit is 70mph does not mean that is the speed you must travel at - it is the maximum speed permitted. Please drive safely and sensibly and according to the road conditions."
The works are part of the £320m M80 upgrade project, which the Scottish government has said will reduce journey times by up to 40%.