'No excuses' from Dunblane survivor guilty of rape bid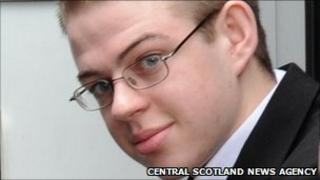 A Dunblane massacre survivor who attempted to rape a 76-year-old woman is not trying to use his childhood trauma as an excuse, a court has heard.
Ryan Liddell was expecting to be sentenced at the High Court in Edinburgh, but necessary background reports have not been completed.
His lawyer said it had never been the case that his client had tried to use his background to his advantage.
The 20-year-old was found guilty of the assault after a trial in June.
The attack took place at the woman's Dunblane home in June 2010.
Liddell was among the 28 children shot by Thomas Hamilton at Dunblane Primary School in 1996, injuring him in the arm and chest.
But defence QC Jamie Gilchrist, noting that family of Liddell's victim were in court, said: "The clear indication was that my client was trying to suggest certain events in his background in some way excused his behaviour.
"That has never been the position."
Liddell will remain in custody pending a new sentencing date next month.
'Complex case'
The court heard that social workers had asked for more time to prepare their background report on the complex case and wanted to interview him again.
A psychiatric report has also been prepared to help judge Lord Uist decide what should happen to Liddell.
He was a five-year-old primary pupil when gunman Thomas Hamilton's killing spree left 16 children and a teacher dead in March 1996.
Another two teachers and 12 pupils were injured - one of them Liddell, who needed emergency surgery to treat a collapsed lung and a smashed right arm.
A trial in Dumbarton heard how the 76-year-old woman left her door unlocked so that her son could come in for his breakfast in the morning.
But Liddell took advantage of the lack of security to sneak into the house and attack the woman.
A jury found Liddell guilty of assault with intent to rape, putting the woman's life in danger.