Barn owls face kestrel nest box 'takeover'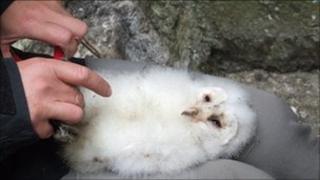 Kestrels have been muscling in on nest boxes designed to help boost the barn owl population in Falkirk.
Rangers said the birds of prey had "taken a shine" this year to the nesting boxes, first put up in 2007.
Since the project was launched, 21 barn owl chicks and nine kestrel chicks have hatched in the boxes.
That includes 16 new arrivals this year - with eight from each species. The birds are monitored by volunteer Phil May and Falkirk Council ranger service.
The boxes were set up when conservationists realised the number of barn owls were declining in the area a result of breeding site loss and a lack of suitable nesting sites.
Falkirk Council said the nesting boxes were now vital in helping conserve and increase the local barn owl population.
Adrian Mahoney, leisure, tourism and community convener at the authority said: "The success we have had so far with this project demonstrates that our commitment to preserving wildlife is paying off and is enriching our local biodiversity.
"A special thanks to local landowners for supporting this project which is most definitely increasing the barn owl population."
Mr Mahoney added it was "encouraging" that kestrels were also benefiting from the project.