M80 roadworks speed restrictions lifted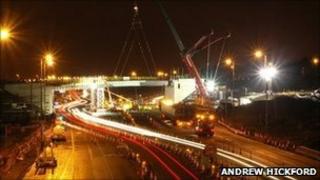 Speed restrictions on the A80/M80, which links Glasgow and Stirling, are being lifted after more than two years.
Average speed cameras, which have imposed a 40mph limit through the roadworks area, have been removed.
Road maintenance staff are now moving cones from the motorway and the new 11-mile stretch will be mainly a 70mph route by Saturday.
Speed restrictions will remain on the southbound carriageway from Auchenkilns to Mollinsburn.
The roadworks have frequently been the cause of massive tailbacks at peak times, sometimes more than doubling the journey time between Stirling and Glasgow.
The works are part of the £320m M80 upgrade project, which the Scottish government has said will reduce peak journey times by up to 40%.
Scottish Cabinet Secretary for Infrastructure Alex Neil said: "This is a significant step in the upgrade of Scotland's transport infrastructure.
"Completing the motorway network between Glasgow and Stirling, will bring real benefits to the communities and businesses across the central belt and to the rest of Scotland with its links to the M74 and the wider road network."