Callander Bowling Club 'too old' for centenary party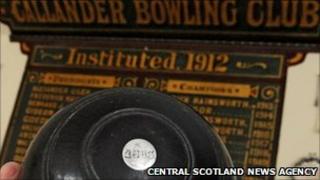 A bowling club has had to cancel its centenary celebrations after it emerged it was already nearly 150 years old.
Callander Bowling Club, near Stirling, planned a series of events to mark its formation in 1912, including memorabilia and a book of its history.
But research for the book to mark the milestone uncovered evidence revealing the club was actually formed in 1862.
Now they will celebrate the club's sesquicentennial - 150th anniversary - next year instead.
Map discovery
Club secretary Christine Watson, 70, said: "We were making all the arrangements for our centenary, but we have now discovered 50 missing years.
"It had always been understood that the club was formed in 1912 when the green was opened, but members had been playing on another green in the town for 50 years before that.
"We'll have a celebration anyway."
Club member Paul McGinlay said the missing half century emerged after he began researching the club's history.
He said: "I offered to write the first history of the club, and found a copy of a map drawn up in 1862 which showed a bowling green sited on the main road heading north out of Callander.
"I began researching old council minute books, documents and archives, and discovered that a group of local bowlers met in the spring of 1862 in a move to formalise the game in Callander."
Callander Bowling Club moved to a new plot of land on Ancaster Road - donated by Lord Ancaster - in 1912.
Letter 'ignored'
Mr McGinlay also found that the club's first president, Duncan Graham Robertson, had offered a pair of silver-mounted bowls as the first competition prize to be played for "when the weather was more clement".
The prize bowls, dated 1862/3 and inscribed "D.G.Robertson" have now been recovered.
They had been donated to Yatton Bowling Club in North Somerset more than a century ago, and the English club has now returned them to their original home.
Mr McGinlay added: "I came across a letter dated 1970 from Yatton BC asking if Callander would like them to return a pair of bowls. Of course, no action was taken, for even then the club believed that it originated in 1912, and the letter was ignored.
"We contacted Yatton, and discovered a descendent of D.G.Robertson had moved to the Yatton area and had been left these bowls by their ancestor. Neither they nor their family played the game, so they donated them to the club."
The bowls have now been officially handed over by a member of the Yatton club.