Bo'ness couple lose crystal meth extradition appeal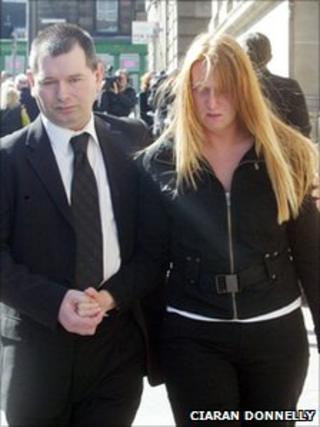 A couple accused of supplying chemicals to crystal meth dealers over the internet have lost their appeal against extradition to the United States.
Brian and Kerry Ann Howes, from Bo'ness, near Falkirk, are said to have sold legal chemicals which were then used to make illegal drugs in the US.
The pair maintain they ran a legitimate business and have been fighting extradition for more than four years.
Their lawyers are now considering a further appeal to the European Court.
The pair were arrested by Central Scotland Police in 2007, amid claims they supplied more than 40 chemicals to dealers via the online company Lab Chemicals International.
No UK trial
The charges against Mr and Mrs Howes allege they used their internet company to supply red phosphorous and iodine to 400 customers in the US, most of whom were producing methamphetamine, also known as crystal meth.
Red phosphorous and iodine are legal in Britain, but regulated in the US.
The case falls under the 2003 Extradition Act which allows the extradition of people to the US without any trial taking place in the UK, removing the need for US authorities to provide prima facie evidence of criminality.
An extradition order was made by the Scottish government on 29 May 2008.
The Appeal Court upheld certain parts of the appeal, but ruled the extradition must go ahead as the couple had failed to establish that the action would be a violation of the European Convention on Human Rights.
Judges Lord Osborne, Lord Reed and Lord Mackay of Drumadoon said the alleged offences were of an "extremely serious nature".
The allegations include deliberately mislabelling chemicals sent to the US in a bid to avoid detection.
The ruling said: "This conduct is alleged to have been persisted in over a period of years, despite searches of the appellants' premises, the seizure of evidence, and a warning to desist by the United States authorities.
"The highly dangerous nature of methamphetamine is reflected in the fact that it has, since 2007, been classified in the United Kingdom as a Class A drug in terms of the Misuse of Drugs Act 1971."
Mr and Mrs Howes face being separated from their children if they are extradited to the US, but the judges said the impact on the private life of the couple was "proportionate".
They added: "The court proceeded on the basis that there is a risk that the children may require to be taken into care and that there is a risk, in that eventuality, that they may require to be separated.
"The court observed that it is a sad, but unavoidable, fact of life that the consequences of criminal proceedings often affect the family of the wrongdoer more severely than the wrongdoer themself."