Cannabis farm warning to central Scotland landlords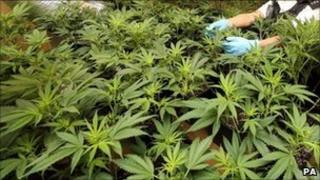 Police have warned central Scotland landlords to be vigilant after discovering 19 cannabis cultivations in five months, many in rented houses.
Detectives said the finds ranged from small "domestic" set-ups to complex operations growing hundreds of plants.
Some of the cultivations are also suspected to have links to organised crime.
Central Scotland Police said many of the larger scale operations were in rented properties.
Ceiling holes
The force has uncovered three cannabis cultivations this month, seizing about 1,300 plants and £600,000 in cash.
Typically, the properties involved are privately owned and rented out for about six months at a time.
Det Supt Cameron Cavin said: "In the cases of the large-scale cultivations there has been significant damage caused to the structure of the houses.
"Internal walls have been knocked down and holes made in the ceilings to accommodate the essential equipment to grow the plants on a large scale.
"Plastic sheeting is used to cover the walls and windows to create an indoor greenhouse. Industrial lights and heaters are used to create maximum heat for ideal growing conditions."
Det Supt Cavin said landlords should check their properties regularly and make sure their rent was paid by direct debit rather than cash.