'Toxic' algae discovered in Loch Coulter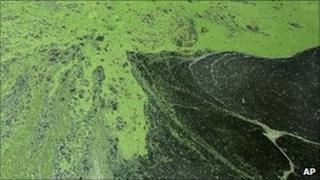 An algae that can kill livestock and dogs as well as cause vomiting and diarrhoea in humans has been found in a loch near Stirling.
The blue-green algae has been detected in high concentrations at Loch Coulter, Stirling Council said.
Contact with the algal scum material which collects around the shoreline can also cause skin rashes, eye irritation and fevers and pains.
The loch is not used as a public water supply.
Stirling Council said warnings to swimmers and anglers had been placed around the loch.
A spokeswoman said: "Adjoining landowners and local fishing interests have been informed of the situation.
"Stirling Council are monitoring the situation with the assistance of SEPA, Scottish Water and NHS Forth Valley."
Blue-green algae can be found in many rivers and lakes throughout the UK, but is generally only noticed when concentrations form "blooms" which look like blue-green paint.