Man injured in Killiecrankie 'canyoning' leap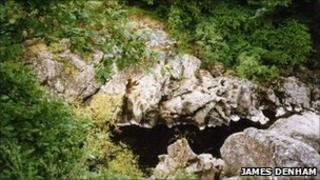 Police are warning over the dangers of canyoning after a man was seriously injured jumping into a river pool in Perthshire.
The 23-year-old fractured his femur and pelvis after leaping 20ft (6m) from a ledge in Killiecrankie Gorge, near Pitlochry, on Saturday.
He was part of a group of four and not in an organised group, Tayside Police said.
Canyonying involves swimming and scrambling down rocky gorges.
A spokesman for the force said the incident highlighted the dangers of jumping into unknown waters from a height.
"This is clearly very dangerous as you do not know what lurks under the surface and the sudden impact of cold water and strong currents may make swimming very difficult," he said.
"There are local groups which specialise in 'canyoning' trips and have all the necessary training and equipment to ensure that it is undertaken in the safest way possible."
Also on Saturday, a man was rescued from a ravine after breaking his ankles "tombstoning" off a bridge into the River Glascarnoch, near Garve, Ross-shire.