Clackmannanshire crash kills one man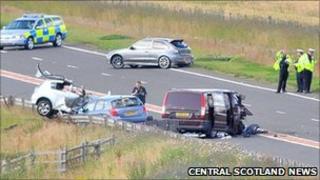 A 44-year-old man has died and three people have been injured in a serious crash on the A876 in Clackmannanshire.
Police said a van and three cars were involved in the collision at about 07:45 near Kilbagie roundabout, north of Clackmannanshire Bridge.
Fire and ambulance crews were sent to the scene, as well as a trauma team from Forth Valley Royal Hospital.
The road was closed for several hours while police investigated the cause of the crash, but has now reopened.
Central Scotland Police has appealed to anyone who witnessed the collision to contact them.