Loch Leven work will make RSPB bird reserve 'wetter'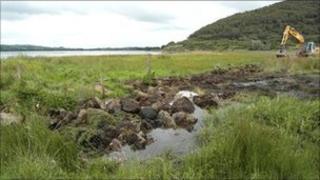 RSPB Scotland is to spend £250,000 one making on of its nature reserves "bigger, flatter and wetter".
Large-scale landscaping is to begin at the bird conservation charity's Vane Farm reserve at Loch Leven this month.
The works will restore wet grassland areas around the loch shoreline, lost when the water level was lowered in the 19th Century.
Money for the project - one of 13 across the UK - comes from landfill tax credits.
The credits have been donated by Biffa Waste Services, and are part of a multi-million pound environment fund managed by the Royal Society of Wildlife Trusts.
RSPB Scotland said three years of scientific research had gone into planning the improvements at Vane Farm, which are also receiving funding from Scottish Natural Heritage (SNH).
'Important site'
The works at the loch, near Kinross, are designed to create ideal habitat for wading birds like lapwing, as well as amphibians and aquatic insects.
And the RSPB also hopes the improvements will make the area more attractive to water voles and otters.
Denise Reed, from SNH, said: "Loch Leven is the largest lowland loch in Scotland and is one of the most important sites for migratory ducks, geese and swans in Britain.
"About 200 years ago the loch was mostly marsh and reed beds, but most of these have now been drained to provide prime agricultural land.
"There is still a rich mix of marsh, grassland, reed bed and willow carr on the margin of the loch where wildlife thrives."