On the run killer Brian McGowan found by Essex police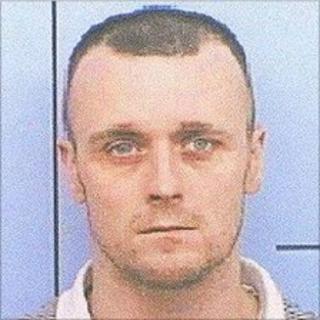 A murderer on the run from Castle Huntly prison tried to escape again after being spotted 400 miles away by a CCTV operator, a court has heard.
Brian McGowan was with a woman and tried to flee with her when he realised police officers had tracked him down.
But the pair were arrested in Colchester, Essex, after a brief chase.
McGowan admitted absconding on 17 July after failing to return to the prison from five days' of leave in Callander, Stirling.
Perth Sheriff Court was told McGowan had travelled to various places across the UK, until he was eventually spotted in Colchester at the weekend.
The killer - who was transferred to Castle Huntly in May - had been granted leave from 13 to 17 July, but failed to return and claimed he decided to go on the run after missing his bus back from Callander.
'Missed bus'
Fiscal depute Robbie Brown said: "He was seen on CCTV and when approached by an officer he and a female he was with ran off and tried to get away. When officers eventually caught up with him there was no struggle."
Solicitor David Duncan, defending, said McGowan, who was jailed for life in 1994, had visited Callander, Stirling, Alloa, London and Colchester during his period on the run.
"This was not a pre-meditated course of action. He was required to get a bus back and had a travel warrant for the journey. He intended to get the noon bus from Callander," Mr Duncan said.
"That was the bus he used on his previous home leave but he had not factored in the Sunday service and missed the bus. He decided he wasn't returning."
Mr Duncan said McGowan visited his sister's grave in Stirling and his cousin's grave in Colchester before being recognised and arrested at the weekend.
McGowan, 36, had a six-month concurrent sentence imposed by Sheriff Michael Fletcher.
He is serving life for the murder of 56-year-old Andrew Robertson, of Stirling. McGowan was jailed while he was a teenager in 1994 after being convicted at the High Court in Stirling.