Custody visit volunteers wanted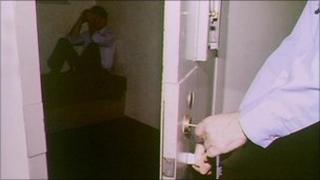 A police board is looking for volunteers to make unannounced visits to custody suites to report back on how detainees are treated.
The "custody visitors" will inspect police stations in Stirling, Falkirk and Clackmannanshire.
They then report back to Central Scotland Joint Police Board on the welfare of those being held in police cells.
Volunteers are trained in relevant areas of the law and health and safety.
Visits to police stations are made in pairs and last about 40 minutes each. Volunteers are expected to carry out at least 12 inspections over the course of a year.
Brian Pirie, from the joint police board, said: "Custody visitors are completely independent of the police and have the right to inspect the conditions under which a detainee is being held and to make enquiries as to their well-being.
"We are looking for volunteers who are of good character and can spare some of their time to ensure detainees are being treated well.
"Visitors are impartial and simply look, listen and report on what they find which is then reported back to the board."
An information session for potential applicants - who must be over 18 - is being held at Falkirk's Municipal Buildings on 20 August, between 10:30 and 13:00.