Denny woman pulled naked barmaid from under bed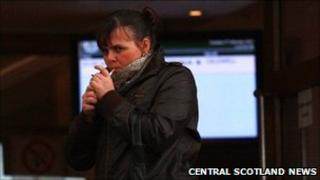 A woman has told a court how her life has been "ruined" after being convicted of assault for dragging a naked woman from under her bed.
Mary Jackson, 33, said she had lost her home, her job and was also battling depression since being convicted of the attack on Sharon Purvis, 22.
Jackson suspected the local barmaid had been with her boyfriend, who was half-dressed in another room of their home.
She was admonished for last year's assault in Denny, near Falkirk.
Falkirk Sheriff Court heard how she told Miss Purvis to "get out from under my bed and out my house" before grabbing her by the hair and dragging her from her hiding place.
She was convicted of the assault in September 2010. Her sentence was deferred for good behaviour.
Jackson said: "All I did was pull her out from underneath my bed.
"I've lost my job in a call centre because of this and also had to move out my home and into a homeless shelter. I've still not got another job.
"The whole things left me in a state of depression. It's just been really unfair and I don't know how it ever got to court."
Jackson said he had also broken up with her then boyfriend Richard Stafford.
The court heard that the 33-year-old had spent the evening of the incident with him in the Anchor Inn in Dunipace, Falkirk.
Mr Stafford, 43, had to be driven home because he was so "drunk he couldn't stand up", while she said she was going to a friend's house.
However, Jackson changed her mind - and went back unexpectedly to the home she shared with Mr Stafford.
'Good behaviour'
When she went into her bedroom she found Miss Purvis naked in the bed, with her boyfriend walking into the room pulling on a T-shirt.
Jackson had earlier told the court: "Sharon went under my bed and I pulled her by the hair.
"You don't expect to go out with friends and find a naked woman in your bed. It's messed up my whole life."
Both Miss Purvis and Mr Stafford denied sleeping together.
Solicitor Willie McIntyre, defending, said: "I ask you to accept that this was an understandable reaction in the circumstances. She has been of good behaviour since the incident."
Sheriff William Gallagher then admonished her.