Dundee forensics expertise to help Turkey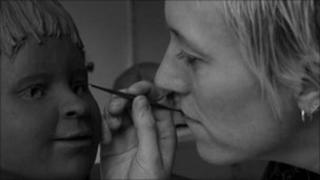 The University of Dundee's expertise in forensic identification is set to help Turkey deal with child abductions.
Ozgur Bulut spent a year in Dundee tutored by Prof Caroline Wilkinson at the Centre for Anatomy and Human Identification.
Mr Bulut has now established the Forensic Art and Anthropological Examination Unit in Ankara.
This unit will help in the investigation of the whereabouts of about 1,700 children who are missing.
It is Turkey's first department dedicated to specialist age progression and facial reconstruction techniques learned at Dundee University.
Dundee University's Centre for Anatomy and Human Identification has become an authority in facial anthropology and forensic facial reconstruction.
Prof Wilkinson has led research into improving facial identification methods and acted as an expert witness in several court cases.
The techniques she employs have been highlighted in the hit BBC Two show History Cold Case, in which she has reconstructed the faces of individuals from archaeological investigations.
Age progression
Working closely with Prof Wilkinson, Mr Bulut, who is from Turkey, completed a thesis on forensic age progression and regression, as well as studying ground-breaking methods of computerised facial reconstruction which can help identify a person from their remains.
Age progression is the process of modifying a photograph of a person to represent the effect of ageing on their appearance.
It is commonly used by law enforcement agencies in many countries as a forensics tool and can be used to show the likely current appearance of a missing person from a photograph taken many years ago.
Mr Bulut: "My employers sent me to Dundee to take the course because it has such an excellent reputation and is very relevant to what we are trying to do.
"There are hundreds of children who are missing having been abducted and so helping to identify them is something that is very important for Turkey.
"What I was taught in Dundee will have a great impact on people in Turkey and particularly for families of missing children."