'Honest' Ben Lomond walkers add to collection box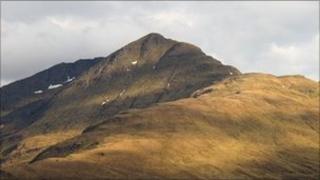 Volunteers who accidentally left a money box on a mountainside were amazed to find it still there two days later - brimming with more than £40 in change.
Walkers on Ben Lomond were praised for their "heart-warming honesty and generosity" following the incident.
A team of teenagers were repairing footpaths on the 3,196-ft (974m) Munro, and left a tub so that walkers could show their appreciation for their work.
But the youngsters left it behind after abandoning the hillside in bad weather.
The group - all aged between 16 and 18 years - expected it to have been taken by the time they returned more than 48 hours later.
'Great surprise'
National Trust for Scotland ranger Alasdair Eckersall, who was with the repair crew, said: "These dedicated youngsters were carrying out footpath repair work on the hillside during their 'holiday', and had a small tub for donations onsite while they worked.
"The wet weather closed in and the team had to abandon work for the day - in the rush they forgot to stow away the donation box and the sign explaining how donations would be used.
"We all headed back up to the site a few days later and got a great surprise to find that not only was the tub still there, but it had about £40 in change sitting in it."
Mr Eckersall said the "honest" walkers who had passed the money box in the meantime had added to the total collected "quite considerably".
Ben Lomond is the most southerly of the Munros, lying within the Loch Lomond and the Trossachs National Park.
Its accessibility from Glasgow and elsewhere in central Scotland, together with the relative ease of ascent from Rowardennan, makes it one of the most popular of all the Munros, with an estimated 30,000 climbing it every year.
Conservation charity NTS cares for about 400 miles of footpaths on Scotland's mountains and carries out a programme of regular repair and maintenance.