Creative industry role for Dundee University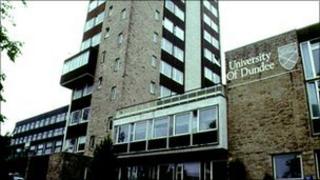 A new arts and humanities project to help boost the UK's creative economy is to be led by the University of Dundee.
It will be one of four new "Knowledge Exchange Hubs for the Creative Economy", funded with £16m from the Arts and Humanities Research Council.
The hubs will be tasked with improving work among academics, businesses and charities, through partnerships, research and awareness raising.
Prof Georgina Follett said it would help widen the scope of creative work.
The deputy principal said "This is a project that will have a major impact on the creative industries and academia across Scotland.
"It will push design into areas it has not traditionally been associated with, such as sport, wellbeing, rural economics, and food and diet.
"It will reinforce the idea that design is not just about a beautiful product, it is something that can effect change in wider society."
The four-year project will see Dundee University lead a consortium that includes all Scottish art colleges, comprising Duncan of Jordanstone College of Art & Design, Edinburgh College of Art, Glasgow School of Art, Robert Gordon University's Gray's School of Art, as well as the University of Abertay Dundee and the University of St Andrews.
The University of Lancaster, Queen Mary, University of London and the University of the West of England will spearhead the hubs south of the border.
UK Universities and Science Minister, David Willetts, said: "Interaction between businesses and universities is crucial for driving growth.
"It enables businesses and organisations to benefit from our world-class research base, gaining new knowledge and ideas.
"This major investment will not only enrich the creative industries but is also a vote of confidence in the excellent arts and humanities research at our higher education institutions."
According to Dundee University, the UK's creative economy - which includes the creative industries as well as museums, galleries, libraries, orchestras and theatres - is thought to be the largest creative sector in the world relative to GDP.