Comrie woman drove drunk on school run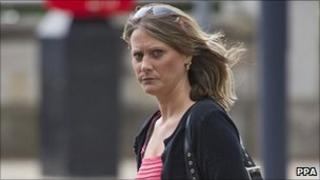 A woman who drove two children on the school run while she was nearly three times over the drink-drive limit has been banned from the road.
Aileen Williamson, 41, said she had driven to a local medical centre after school because she had been suffering from a sudden bout of eczema.
Williamson, from Comrie in Perthshire, admitted driving while over the limit with two 14-year-old passengers.
A sheriff said her car was like a "guided missile" to other road users.
Perth Sheriff Court heard that Williamson felt her skin condition was so irritating that she needed to drive to a medical centre in Comrie to pick up medication.
Fiscal depute Rebecca Kynaston said staff at the centre had phoned police to tell them that the accused had "clearly driven" to the surgery while under the influence of alcohol.
"At 4.50 pm the police attended and saw her driving her Suzuki Vitara. They saw her driving from the medical centre car park into the road. She had front and rear seat passengers, both were 14 years old," the fiscal depute said.
"She was stopped and smelled strongly of alcohol. She was taken to police divisional headquarters in Perth and gave a positive reading."
'Financial hardship'
Solicitor David Sinclair, defending, said: "She readily accepts she made a grave error by driving her car on the day in question.
"She suffered from severe eczema on that day and was in need of a repeat prescription from the doctor as the medication would provide relief from her affliction.
"She had consumed alcohol that day. She was having money troubles. When this offence arose she was having extreme financial hardship."
But Sheriff Robert McCreadie noted that Williamson admitted drinking two bottles of wine every day and established that it cost her £9 daily.
He said: "That's almost £50 a week, £200 a month, £2,500 a year on alcohol. In stark terms that is what she is drinking. That's what it adds up to.
"There was no justification for getting into a car in this state, for any reason. She was potentially a guided missile."
Williamson as banned from driving on an interim basis and had sentence deferred for three months to be of good behaviour and work with the Tayside Council on Alcohol.