Falkirk Council plans for 'extreme weather event'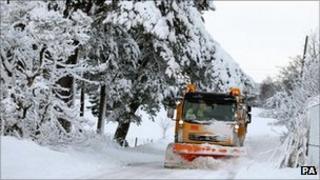 A local authority has announced its first "extreme weather event" plan after dealing with "Arctic" conditions over the past two winters.
The measures have just been approved by Falkirk Council's community safety committee and are part of the winter service plan.
Recent severe winter weather had stretched council services "to the limit", the authority said.
The new plan includes emergency grit bins being placed on streets.
Craig R Martin, vice convenor of the community safety committee, said: "Over the last two years we have suffered from very severe winter weather that affected the whole country.
"This resulted in extreme conditions throughout the Falkirk Council area, which not only stretched our services to the limit but also made life difficult for the people of Falkirk."
"Though we would hope that there won't be a repeat of the Arctic conditions for many more years to come we still have a duty and responsibility to always prepare for the worst."
The Falkirk area was hit badly by winter storms in November and December 2010, with many areas of the county cut off by ice and heavy snow.