Pupils debating in world schools championship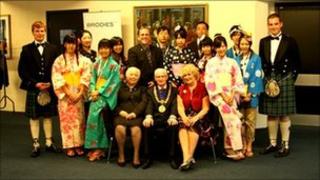 Hundreds of school pupils from around the globe are in Dundee for an international debating competition.
Forty-eight teams will compete in the World Schools Debating Championship over the next 10 days.
All the competitors in the tournament, being held in the city's Bonar Hall, are aged between 14 and 19 years old.
The competition was officially opened at a ceremony in the hall on Wednesday evening. The first round sees the Netherlands pitted against Nigeria.
The young debaters, along with the coaches and officials, were welcomed to Dundee by the city's Lord Provost, John Letford.
He said: "It is a fantastic accolade for Dundee to be hosting this tournament.
"The World Schools Debating Championship is a highly prestigious tournament and the debates that take place over the next 10 days will be followed all over the world, further enhancing Dundee's growing reputation for hosting top-flight global events."
Dundee was picked to host the tournament after a bid was submitted by the Scottish Schools International Debating Council and Dundee City Council.
Many of the pupils taking part started arriving on Sunday evening. They were met by groups of volunteers and will live in student flats during the course of the competition.
The tournament was first held in Australia in 1988. Countries can submit a squad of three to five students to debate in English on social, moral and political issues.