Dundee woman who swung baby avoids jail sentence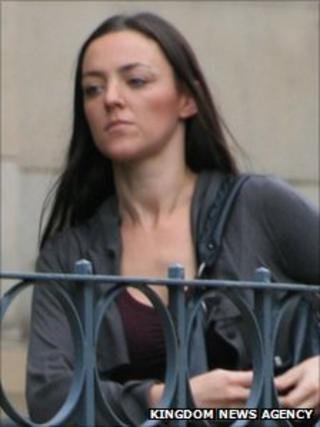 A woman who "violently" swung a four-week-old baby around then assaulted a man while holding the child has avoided jail.
Louise Dixon admitted carrying out the offences at a flat in Dundee in May.
She also admitted assaulting two police officers the following day.
Passing sentence at Dundee Sheriff Court, Sheriff John Mundy placed her on a one year community payback order and told her to undertake drug and alcohol counselling.
Earlier allegations that she tried to throw the baby at officers trying to arrest her were removed from the charges.
The court was told that Dixon picked up the baby and "violently swung him back and forth" at a flat in Dundee's Balunie Drive on 6 May.
She then attacked a man while holding the child in her arms.
Afterwards Dixon took the month-old baby out of the flat to another address in nearby Whitfield Avenue.
She later returned to Balunie Drive and police officers attended.
The court heard they found the baby in a bouncing chair sucking on an empty bottle, with Dixon passed out next to him.
When the officers tried to handcuff her Dixon assaulted Pc Mark Norris by scratching him on the arms and then attacked Pc Lindsey Knox by repeatedly kicking her on the body as they tried to subdue her.
Mike Short, defending, said: "The only good thing is that there was no actual harm to the child.
"But the child was in potential danger and that's enough and that's why she is here."
Passing sentence, Sheriff Mundy said: "When I first looked at the charges I was horrified.
"This is a last opportunity for you, given your record and the seriousness of this offence."
He added: "I'm doing this with some hesitation because I consider this to be a very serious incident.
"There was no injury to the child, but there could have been."