Security firm Westcoast Group was tax fraud front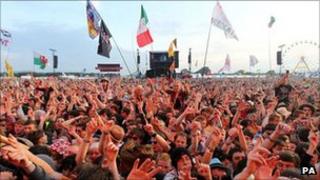 A company that provided security at T in the Park and other music festivals was being used as a front for tax fraud, a court has heard.
David Stewardson, from Mayfield in Midlothian, admitted defrauding the government out of more than £1m while running Westcoast Group Security.
The 55-year-old also pled guilty to illegally claiming benefits of £14,000 over four and a half years.
Sentence was deferred until next month for background reports.
Edinburgh Sheriff Court heard that Stewardson did not pay any VAT or income tax between 23 December 2004 and 6 July 2009, when more than £3m went through a bank account solely operated by him.
The security company - which also provided security at Glastonbury - had a turnover sometimes in excess of £1m a year, the court was told.
Fiscal depute Isabel Clark said: "The accused at this time was also claiming benefits and he failed to declare to the DWP [Department of Work and Pensions] that he was running a business."
'No assets'
She told the court that all the money had gone through Stewardson's personal account. The bank became concerned because of the high amounts being put through and because the money was always withdrawn in cash.
The matter came to light when Stewardson was unable to provide documentation to the authorities about National Insurance and VAT payments.
Mrs Clark said: "At no time did he declare he was employed or operating the business and earning a turnover of £3m. The accused does not have any assets that have been found."
She added that the Crown would move to forfeit assets if any could be found.
Stewardson's lawyer David Blair-Wilson said his client was provided with £150 a week to run the company and lived a simple life in a council house.
He said: "He is not a criminal mastermind. He lives in a council house, has never been on an abroad holiday and has a motability car."
The court heard that the first offender suffered from diabetes, was disabled and was in constant pain.
Mr Blair-Wilson said that Stewardson had been asked to front the company by someone who could not do so because they were bankrupt
He told the court that Westcoast Group had been owned previously on two occasions by persons "known to the courts".
The lawyer added that there had been prosecutions and shootings in Glasgow about it and that Stewardson was told he would come to a similar fate if he did not comply.
Stewardson was released on bail, pending his sentence.