Cononish gold mine objections 'could be overcome'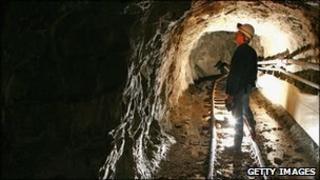 A conservation body has said its objections to fresh proposals for a gold mine in a national park could be overcome.
Scottish Natural Heritage (SNH) wants further commitments to be made to guard against the long term effects of the mine planned at Cononish, near Tyndrum.
Scotgold Resources' original proposal was rejected by the Loch Lomond and the Trossachs National Park.
The company submitted revised plans in July. A decision is due in October.
Scotgold Resources has said it believes the project will "deliver major direct and indirect employment opportunities, as well as considerable economic investment potential to the immediate area and to the region".
'Significant impact'
Scottish gold is reported to be among the most expensive in the world - 0.035oz (1g) of it can cost more than five times the price of normal gold.
If plans work favourably for the company, it will be the first time the precious metal has been successfully extracted from a Scottish mine for more than 500 years.
SNH said it objected to the proposal as it stood - but believed the objection could be overcome "either through conditions or with some detailed commitments".
A report from the body concluded: "We advise that there will be significant impacts on the special landscape qualities of the national park during the working period of the mine should this application be approved.
"These could potentially extend beyond the life of the mine unless the restoration and landscape mitigation measures proposed are adequately brought together in an overarching detailed plan.
"This should be agreed prior to commencement of works."