Pink ecstasy pills warning after Stirling teen's death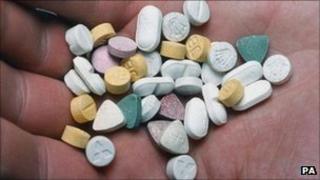 Drug users are being warned about a batch of ecstasy tablets circulating in central Scotland after the death of a 17-year-old boy.
An investigation into the teenager's death in the Stirling area on Monday has revealed a possible link to the drug.
Central Scotland Police said the pills they wanted to warn drug users about were pink.
NHS officials and voluntary drugs workers have also been alerted.
Det Insp Ronnie Isles, from Stirling CID, said: "Our inquiries into the death of a 17-year-old in the area are ongoing.
"Whilst the exact cause of death is still being investigated, we are concerned that ecstasy would appear to have been involved.
"I would reiterate the message to all drug users that taking any type of illegal drug is inherently dangerous."
The officer added that anyone with information about the supply of drugs should contact police immediately.
Dr Henry Prempeh, from NHS Forth Valley, also urged drug users to seek help and said the health service offered a wide range of services to help and support drug users.