Ben Lomond walkers 'spooked' by adder rescued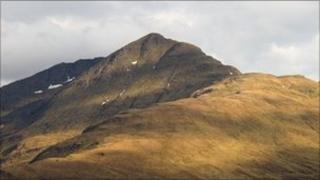 Two novice walkers had to be rescued after losing their way on Ben Lomond and being "spooked" by an adder.
The walkers, aged 37 and 41, were making their way down the Munro after reaching the summit at 17:00 on Tuesday when they got lost.
Lomond Mountain Rescue Team said the pair had attempted to take a shortcut and turned west off the tourist path.
They found themselves on difficult terrain in fading light and then stumbled across the snake.
Roped down
But the lost walkers were able to work out their position using the GPS on a mobile phone and let the rescue team know.
The team was called out at 20:30 and a search party sent up the Ptarmigan Ridge on Ben Lomond found the missing pair after hearing their shouts.
A Lomond MRT spokesman said: "They were in good condition and could be walked-off. That turned out to be more problematic as they were in a steep wooded, gorge area above Ardess.
"To extract the casualties involved roping them down and across two major burns and back onto safe ground.
"In time this was safely achieved and the group arrived back at Rowardennan and the 'stand-down' text was sent just after midnight."