Perth teen admits 'annoying' stereo use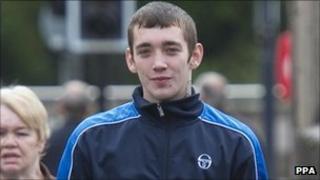 Police officers battled for more than an hour to break into a flat to turn off loud music blaring out in the early hours, a court has heard.
Michael Craven started playing loud music at his flat in Logie Crescent, Perth at 01:15 on 9 December
He refused to let police into his flat and officers had to call a joiner to help them get in. They finally broke down the door at 03:30.
Craven, 18, admitted operating his stereo in an annoying manner.
He also admitted behaving in a threatening and abusive manner at another address in Perth on 9 December 2010.
Perth Sheriff Court heard that Craven shouted and swore at police when they asked him to open the door.
Vandalised bus
Fiscal depute Robbie Brown said: "He was instructed to open the door but was refused. A joiner was called at 2.30 am.
"There was some difficulty and at 3.30 am they eventually gained entry to the premises."
At the same hearing, the teenager admitted to vandalising a bus by punching and smashing one of its windows on 25 November 2010, causing £300 of damage.
Solicitor Linda Clark, defending, said: "The common thread is that he has been intoxicated on both occasions. That is not put forward as an excuse."
Mrs Clark told the court that Craven was due to become a father in December and had cut down his drinking to save money for the baby's arrival.
Sheriff Michael Fletcher told Craven he "badly needed" to change his attitude to alcohol and ordered him to be of good behaviour for four months.
He also ordered Craven to start saving £5 per fortnight towards paying for the bus damage and deferred sentence on him until December.