Loch Lomond National Park's 'difficult path'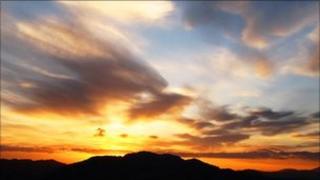 Loch Lomond National Park will use a camping and alcohol ban on east Lomondside as a model to tackle problems around five other lochs. But what difficulties does it face finding the right solution?
A tour of the lochside "hotspots" where the national park is focusing its attention is enough to see that something needs to be done.
The traditional summer camping season is at an end, but everywhere you can see debris from the thousands of people who have passed through over the last few months.
Visit one of the lochside car parks on Loch Lubnaig, or drive along the south Loch Earn road, and you will see bin liners full of rubbish, dozens of fire circles and even the odd felled tree.
At the south end of Loch Lubnaig I found the remains of a tent stuffed in a hedge, along with a sleeping mat.
And on Loch Earn, a close inspection of the shoreline reveals fishing tackle and plenty of broken glass.
Many of the anglers setting up for a weekend's fishing in the drizzle were happy to acknowledge the problems.
One talked of a spot he used to fish on Loch Tay which he now considered a "no go area".
"It's really bad. I wouldn't fish there any more. There's drinking and fighting," he told me.
Loch Tay is outside the national park and not part of the "five lochs" project, but is widely regarded as suffering from similar problems.
Another angler talked of how the increase in popularity of the sport was causing problems, with "walls of rods", overflowing lay-bys and blocked roads some weekends.
But the national park has a difficult path to tread.
It must balance a duty to safeguard the environment with the needs of residents and visitors.
And it has to work with the Land Reform Act, which enshrines in law access and wild camping rights in Scotland.
Pristine wilderness
The park says no decisions have yet been taken on how to tackle the issues it sees around these lochs - but it is likely that an attempt to implement a wider camping ban would be met with a good deal of opposition.
Another possible sanction - alcohol bans - could also be hard to push through.
Two anglers unloading a crate of beer from a car parked at Loch Earn tell me they only drink in moderation and that the often widespread drunkenness is unacceptable - but any by-laws are unlikely to be so obligingly flexible.
And finally the national park must convince the public it is not trying to preserve a pristine wilderness while keeping the "hoi polloi" at bay.
As one backpacker with 30 years of wild camping under his belt told me: "It's a national park. You have to have people in it. You can't just have an empty space."