Stuck wind farm crane blocks road near Dunkeld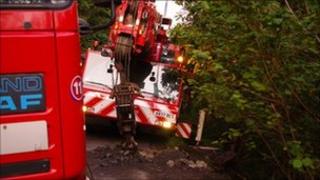 A huge crane was left in a ditch for more than 12 hours after it became stuck on its way to a Perthshire wind farm.
The A822 was closed to traffic on Saturday morning after the crane slid off the road near the Griffin wind farm, Dunkeld.
It was finally recovered in the early hours of Sunday.
Tayside Police said a road engineer was assessing the road to see if any damage had been done.
Local residents have complained of the heavy use of the road by HGVs involved in the construction of the wind farm.
Helen Taylor, who lives close to the wind farm site, said: "Members of the local community have long been warning about the unsuitability of this stretch of the A822 for the sort of HGV traffic which has been generated by the wind farm.
"Dozens of large timber lorries ply up and down the road on a daily basis removing thousands of tonnes of timber off the wind farm site.
"Two convoys of abnormal loads drive up and down the road five days a week."
Ms Taylor said local drivers had learnt from "bitter experience" to drive very cautiously when using the road.
A spokeswoman for Tayside Police said: "All normal movement on the road was suspended. There was no police escort to the vehicle."