A9 trucker drank vodka while driving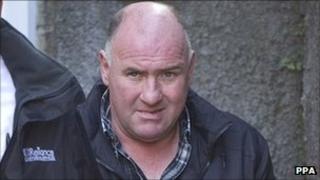 A lorry driver who drank 20 measures of vodka in 90 minutes as he drove along the A9 has been jailed for four months and banned from the road for six years.
Kevin Walker was almost five times over the drink drive limit when his HGV was seen weaving from side to side on the busy dual carriageway.
He was stopped by police near Birnam, Perth and Kinross, on 3 August.
The 48-year-old, from Forres in Morayshire, admitted driving a lorry while over the limit.
Perth Sheriff Court heard that when police officers caught up with Walker he was so drunk that he was slumped over the wheel and they suspected he had been taken ill.
However, paramedics who were called to the scene established that he simply appeared to be unwell because he was so heavily under the influence of alcohol.
Sheriff Lindsay Foulis noted that Walker had another identical conviction three years ago and said there was no option but to send him to prison.
The sheriff said: "It's not just driving a vehicle - it is a motor lorry. The A9 is never quiet, but this was at 1.20pm slap-bang in the middle of the holiday period.
"If a private car comes into contact with an articulated lorry, Mr Walker might be injured but his chances of survival are better than someone in a car.
"It could quite possibly not just be one person, but it could be a mother, a father and two or three kids. It is just absolute madness. It is mayhem waiting to happen."
Previous offence
The trucker - who narrowly avoided jail for his previous drink-driving conviction - was planning to drive a further 115 miles when he was intercepted near Perth.
Witnesses had to help Walker from the cab of his vehicle, which had been delivering scrapped car parts. A virtually empty bottle of vodka was found in the cab.
The court was told that Walker had only been back on the road for six months after his previous disqualification.
He was banned for two years and ordered to carry out 200 hours of community service at Airdrie Sheriff Court in February 2009 when he admitted drink-driving.
Solicitor Linda Clark, defending, said Walker had been drinking because he was depressed following the anniversary of his mother's death.
"He accepts he purchased alcohol, consumed a fair quantity of the bottle he had purchased, and stupidly had continued on his way. He is in no doubt the court takes a serious view."