Rescue after 4x4 swept into Perthshire river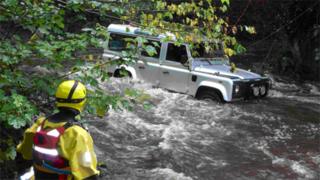 Seven people had to be rescued after their Landrover was swept into a river in Perthshire on Saturday.
Two staff members and a group of five family and friends, aged between 16 and 75, had been taking part in a driving experience at Crieff Hydro's 4x4 track.
They had been attempting to cross the swollen ford when their vehicle was washed off the track into Shaggie Burn.
Emergency services were called to the incident and helped the occupants to safety using a ladder and ropes.
The hotel's rural off-road track, situated north of Crieff, runs through a former sand and gravel quarry.
The first fire crews were at the scene within 15 minutes after the call was received at 11:35 and they secured the Landrover using ropes tied off to trees.
The occupants were passed life jackets, and a firefighter made her way to the vehicle using a ladder and ropes, and then removed the front windscreen.
Fire crews then helped each person out of the Landrover and along the ladder to safety, where they were checked over by paramedics.
Some members of the party received minor cuts and bruises.
Neil Kerr, of Tayside Fire and Rescue, urged the public to be aware of the potential dangers of entering water courses, particularly when in spate.
"Thankfully on this occasion we successfully rescued all those trapped," he said.
"This incident highlights the dangers associated with water sports and related activities, as levels were noticed to have risen to the window level of the vehicle suddenly and dropped again over a short period of time."
Fire crews from Crieff and Perth took part in the rescue, and both Tayside Mountain Rescue and Tayside Police's Search and Rescue Teams were mobilised and were en-route.
Paramedics from Crieff and the Scottish Ambulance Service's Special Operations Response Team in Edinburgh were also mobilised.