Ex-soldier Richard Bekier shoplifted on way to court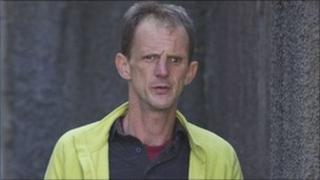 A Gulf War veteran stopped to steal from a supermarket on his way to a hearing on a shoplifting charge, a court has heard.
Former soldier Richard Bekier took steaks from Asda just hours before his appearance at Perth Sheriff Court .
The 40-year-old, from Perth, admitted the theft, and also to stealing from Marks and Spencer while out on bail.
A sheriff said he would allow a previously imposed Community Payback Order to continue as a "last chance".
Bekier's solicitor Cliff Culley told Perth Sheriff Court: "He had a Community Payback Order imposed last Wednesday. He actually came to the court that day via Asda.
"In effect he has not breached the payback order because this offence was at 08:30 - it happened before he got to court and had it imposed.
"He is a man who has had his problems. These are centred on his illicit drug use. He could benefit from a methadone reduction programme which could bring stability to his life."
Heroin habit
The court heard how Bekier lost an eye while serving his country in Iraq during the first Gulf War in 1991, but remained in full-time employment until the past few years.
For five years after being demobbed in 1995, he remained in Germany before returning to Scotland, where he met his partner in 2001. The court heard she died two years later.
Mr Culley said his client had struggled to cope with the loss and had started taking drugs in his 30s, which quickly led to him developing a heroin habit.
The court heard that Bekier had committed more than 20 offences - mainly of dishonesty - since he started taking heroin in 2008.
Sheriff Lindsay Foulis said: "Since 2008 sadly, it has been all downhill and at the end of the day all you are doing is throwing your life away."
But the sheriff said he would give him one last chance with the Community Payback Order and deferred sentence for good behaviour until December.
He added: "As far as I am concerned any further offending and that's it. All bets are off."