Proper Games receives £25,000 funding boost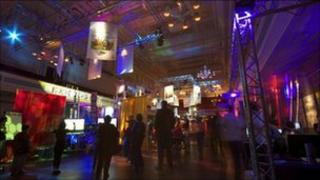 A Dundee video games company has been awarded £25,000 from the UK government to help it develop its next title.
Proper Games will receive the money as part of the second round of the £5m Abertay University prototype fund.
The fund gives cash to small or young businesses and is designed to attract further private investment and create more jobs.
Abertay University said other recipients of this round of funding would be announced soon.
Proper Games was awarded the money during a visit to Dundee by UK Universities Minister David Willetts.
Mr Willetts said: "Our rapidly expanding digital economy is vital for boosting economic growth, and Dundee has some of the best computing facilities and talent that the UK has to offer.
"This investment will further boost the sector, giving students the opportunity to gain invaluable experience of working in industry and encouraging the creation of new high-tech jobs and companies."
'Talented team'
Abertay University said the fund was aimed at creating 30 new companies and up to 400 new jobs.
Proper Games will develop the new title using the fund over the next two months. Six graduates will also work alongside the Proper team giving them "vital industry experience".
The company's chief executive officer Paddy Sinclair said: "I feel very proud of how our company has grown over the last few years and I relish such opportunities to tell our story and showcase the quality of work that our talented team are producing.
"Receiving confirmation of the Prototype Fund investment from Abertay University is really great news and we look forward to getting this project underway."