Abuse victim Melanie Stevenson mistakenly killed ex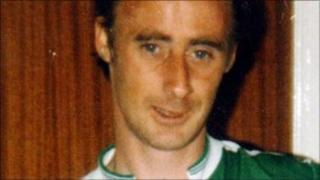 A woman haunted by years of physical and sexual abuse lashed out with a knife and killed a man who had shown her only kindness, a court has heard.
Robert Brereton, 47, suffered 26 stab wounds, severing major blood vessels, after going to visit former girlfriend Melanie Stevenson.
Stevenson, 45, was accused of murder after the attack in Forfar, Angus, in March 2011.
But her plea of guilty to culpable homicide was accepted.
The High Court in Edinburgh heard that Stevenson leapt from the window of her home after the stabbing, breaking her hip.
When police caught up with her she told them about previous violence in her life and claimed she had not meant to hurt anyone, the court was told.
'Remained friends'
Advocate depute Jennifer Bain, prosecuting, said psychiatrists who had examined Stevenson found she was suffering from diminished responsibility at the time of the killing.
Defence QC Mark Stewart quoted from a doctor's report saying Stevenson seemed to have been re-living previous incidents "but discharged her aggression towards a man with whom she had previously had a supportive relationship".
Mr Stewart also told the court: "Her opinion of the deceased is that he was a caring and kindly man who was gentle and decent to her."
The court heard that Mr Brereton first met Stevenson about 10 years ago. Their relationship lasted two years, but they remained friends after they split up.
Mr Brereton had travelled to Forfar to meet her the day before the attack, after stopping off in Dundee to spend the day drinking.
At about 00:30 on 31 March Stevenson's downstairs neighbour heard bangs and thuds and a woman screaming.
Stevenson then went to an ex-boyfriend's house before returning to her home, when the police were called, the advocate depute said.
"On looking through the letter-box, officers saw the blood staining on the floor and walls," said Mrs Bain, "and what appeared to be a body lying directly behind the door."
Stevenson seemed "confused" when taken to Forfar police station for questioning.
Mrs Bain told the court: "She talked of her family history and, in particular, of an incident involving her father and her sister in respect of which she stated: 'I didn't want him to touch her like he touched me, so I stabbed him'."
Sexual abuse
When cautioned, Stevenson said: "I just defended myself. I didn't mean to hurt anybody. I just wanted it to stop."
The court heard that Stevenson had a long history of drink problems, depression and taking overdoses. But psychiatrists said the violence was out of character.
They concluded that Stevenson's background and mental difficulties resulted in her "misperceiving threat where none was intended".
Mr Stewart said she had been the victim of sexual and physical abuse by a number of men.
They included her alcoholic father and grandfather, the court heard.
Stevenson, now of Tweed Street, Grangemouth, was remanded in custody pending the preparation of background reports.
She is due back before judge Lord Kinclaven next month to be sentenced.