Cameras track 'elusive' Killiecrankie pine martens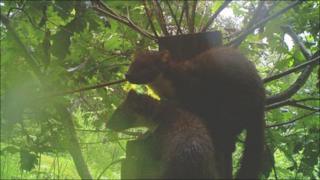 Countryside rangers in Perthshire have been using motion-activated cameras to track one of the UK's rarest mammals.
National Trust for Scotland has placed the "sophisticated" cameras at its Killiecrankie visitor centre to record the movements of pine martens.
The charity hopes the animals will use newly-built artificial den boxes on the reserve to nest and breed.
Pine martens are members of the weasel family and are about the size of a domestic cat.
Naturalist Louise Medine, from the National Trust, said: "Pine martens used to be found all over Britain but their numbers are now recovering.
"They are still scarce with their strongholds mainly in the Highlands and west coast of Scotland, including here at Killiecrankie."
Pine martens have recently been recorded on Ben Lomond, where the trust is also setting up den boxes.
Ms Medine added: "It's really exciting to see these rare and elusive creatures benefiting from our conservation efforts."