Offers on table for Highland Toffee firm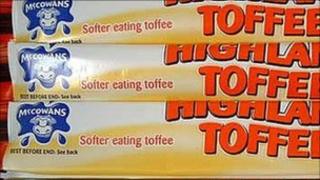 The makers of Highland Toffee could be rescued by the same investors who saved the company five years ago.
New McCowans went into administration on Friday, putting 103 jobs at its Stenhousemuir factory at risk.
But Ambrosia Holdings, whose investment saved the company in 2006, said it still believed it was a "viable business" with a "strong brand".
Administrators Grant Thornton are understood to be considering at least two other offers.
The sweet maker has had a factory in Stenhousemuir, near Falkirk, since the 1920s. New McCowans also produces the Wham bar, Pan Drops and Bonbons.
In March 2005, the company - then known as McCowan's - went into receivership, but was saved a year later after a deal was struck with Principal Capital Investment, the former UK branch of Ambrosia Holdings.
Manoli Vaindirlis, from Ambrosia Holdings, said New McCowans was still a flourishing arm of the group it became part of in August 2006.
'Very productive'
"The business is running well, the factories are very productive and the brand is strong," said Mr Vaindirlis, who was also involved in the negotiations five years ago.
"We still believe there's a strong place in the market for the company."
The sweet firm was originally founded by Andrew McCowan, who was born near Crieff in the late 19th Century.
He established his confectionary business in Stenhousemuir in the early 1920s, eventually launching its best-known product, Highland Toffee.
The company was sold to Nestle in the 1960s and was the subject of a management buyout in the late 1980s, before being bought by Dutch company Phideas in the mid 1990s.
There was also another management buyout in 2003.
Mr Vaindirlis said he hoped to hear from Grant Thornton within the next couple of days.
He added: "The business has had a chequered past - but the factory is consistently busy and running well."
A spokeswoman for Grant Thornton said there would be a meeting between the administrators and staff at the factory on Friday.