Apps firm Dogfi.sh to expand after theme park success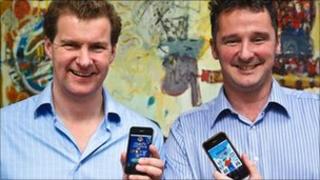 A small Perthshire company that creates mobile phone applications for theme parks is looking to expand after achieving global success.
Dogfi.sh Mobile, based in Crieff, has designed the official apps for Alton Towers, Thorpe Park and Legoland in California.
The parks are run by Merlin Entertainments Group, the second largest tourist destination company in the world.
It has now asked Dogfi.sh to deliver apps for a further 11 of its attractions around the globe.
The firm, which has been supported by its local Business Gateway, was set up by Ross Tuffee, 44, and his brother-in-law Paul Burrowes, 40.
After Mr Tuffee took redundancy two years ago, he wanted to get into something that was fast moving and growing with significant opportunities for the future.
He said: "I have over 20 years of experience working for large companies in a variety of roles mainly specialising in business and technical change.
"Over this time I have gained a strong understanding of how new technologies can drive change in a business.
"Paul has for a long time been at the forefront in transformational software development for the sports, leisure and tourism sectors."
The apps that Dogfi.sh build run across different mobile platforms such as the iPhone, Android and Blackberry. They offer users access to hands on information to help them plan their visit to an attraction.
The apps are also useful when visitors are actually in the parks as they can check latest queue times for rides and use a "find my car" satellite technology tool which leads them directly back to where they parked.
Mr Tuffee added: "We were confident that if we teamed up and pooled our experience, skills and networks that we could create a compelling offering.
"We just didn't realise how well that offering would be received in such a short space of time.
"The demand really has been staggering."
The firm, which currently employs one other person, is now looking to recruit further staff to assist with future orders and is also hoping to extend its Scottish customer base.