Warning after Stirling fake police officer fraud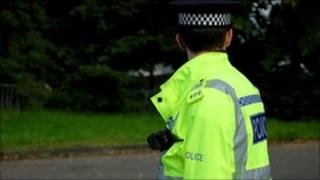 Two pensioners have lost thousands of pounds after a man claiming to be a police officer persuaded them to hand over their bank cards.
A 72-year-old man and 82-year-old woman, both from the Stirling area, have fallen victim to the fraud.
Central Scotland Police said they were called on by a man pretending to be a police officer, who told them their cards had been used fraudulently.
A man later called round to the victims' homes to collect the cards.
Thousands of pounds were then withdrawn from the accounts.
The force has warned householders who are asked for personal or banking details over the phone by someone claiming to be a police officer to refuse to give any information.
Det Insp Ronnie Isles, who is leading the investigation, said the incidents were "despicable", as they used people's trust in the police to their disadvantage.
Cards collected
He said: "These victims have each been defrauded of a five-figure sum of cash by men claiming to be police officers and stating they were there to help them after an alleged fraud.
"Neither police officers nor bank staff would ask for bank details over the phone or come to your home, and I have to stress to residents that they should never divulge these details to a third party.
"No matter who someone claims to be over the phone, or at your door, refuse to pass on any information to them."
The man who collected the cards was described by both the elderly victims as Asian.
He is thought to be slim, about 6ft 3in with dark stubble and short black hair. Police said he was estimated to be about 30 years old and may have been wearing a light grey-blue boiler suit.
Anyone with information about the incidents is asked to contact police.