Scottish Water fined over Methven sewage leak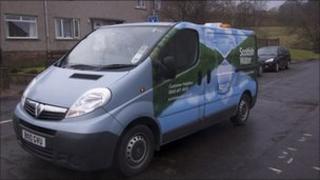 Scottish Water has been fined £6,000 for a sewage leak in Perthshire which killed almost 600 fish.
The company had failed to install an overflow alarm at its Methven treatment works, despite it being a condition of its licence, a court heard.
The leak from the overflow pipe into a burn occurred on 4-5 September 2010.
Scottish Water, which admitted the charges, said "every penny" of the penalty would have to be passed on to customers.
Dr Jan Connerton told the court: "A penalty on Scottish Water is effectively a penalty on its customers. Every penny of a penalty is a penny less to be spent by the company."
She said £2.4m of money had been spent at the Methven Sewage Treatment Works.
Perth Sheriff Court heard that high winds had caused debris to gather in the pipework at the plant, which caused the sewage to back up to the point where it gushed from the emergency overflow.
Backed up pipes
Dr Connerton added: "Scottish Water accepts that on the date it did not have the alarm system in place. Scottish Water accepts it wasn't pumping the sewage sufficiently quickly.
"Scottish Water accepts it discharged sewage in breach of its licence conditions. One of the pumps had been running at half-speed. Scottish Water was given three months to address the issue and did so well in advance of that.
"Scottish Water believes it was successful in dealing with the problem and did so swiftly and effectively. The company is aware of its duties."
Fiscal depute Carol Whyte told the court that sewage backed up in the system and ended up being poured from the overflow pipe into the burn for 48 hours.
She said the untreated sewage was responsible for the deaths of 560 fish in the water.
Sheriff Lindsay Foulis said: "The matter might have been addressed far more quickly. Unfortunately, through there being no alarm system the matter continued through the 4th and 5th of September 2010."
The sheriff also condemned Scottish Water for averaging one conviction every two months for the past nine years.
The company had been fined a total of £294,367 for more than 60 offences since July 2002, he said.