'Psychosis' triggered man's Bridge of Allan roof climb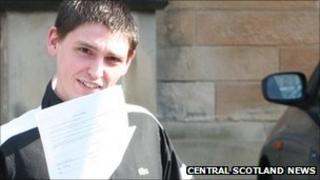 A man caused thousands of pounds of damage after climbing onto a stranger's roof and raining tiles onto nearby cars and a greenhouse, a court has heard.
Craig Henderson, 22, scaled the building in Bridge of Allan, Stirling, during a "drug-induced psychosis".
After kicking in a window and hurling the tiles, he fell off the roof as police tried to talk him down.
Henderson admitted criminal damage and breach of the peace. He was sentenced to 180 hours community service.
Stirling Sheriff Court was told that the 22-year-old, from Stirling, was trying to "escape" his would-be assassins as he climbed onto the roof last Hogmanay.
He ripped off 15 tiles and smashed them down onto two cars and the greenhouse, causing £5,000 of damage.
Lindsey Brooks, prosecuting, said calls about Henderson's behaviour began coming into the Central Scotland Police control room just after midnight.
Window smashed
She said: "The accused at that time was contacting the police saying that he was being chased and that people were attempting to kill him.
"Then there was a further call from a witnesses saying that she had found a man in her garden shouting for help saying that people were trying to kill him."
Henderson was also heard shouting "fire" by another witness, who also called police.
Mrs Brooks said Henderson was walking backwards and forwards asking someone to call the fire brigade, and the occupants of the house were "awoken by footsteps on their roof".
She said: "They got out of bed because of this and the window above their bed was smashed by the accused. Fortunately, they were not injured."
Henderson eventually lost his footing after police arrived and fell about 15ft to the ground. He was taken to hospital for treatment to his injuries.
Mrs Brooks added: "Essentially, he said that he was having a psychotic episode, was scared and thought that he was going to die."
Defence agent Harry Coughlin said that Henderson, who worked seasonally as a gardener, had since addressed his drug problems.