Planners approve Pirnhall business park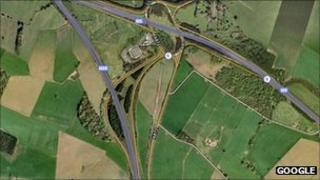 A major office and leisure development near Stirling has been granted full planning permission.
The site, at Pirnhall near Bannockburn, will comprise of six office buildings between two and three storeys high and a separate leisure complex.
Developers said nearly 1,300 jobs could be created in the area if all the offices were occupied.
The permission, granted by Stirling Council's planning panel, is subject to agreement over off-site highway works.
Plans include a foot and cycle bridge over the M9 - which would connect the site to pedestrian and cycle networks on the A872 - and a dedicated bus service from Stirling city centre.
'Economic boost'
Permission has been given to build 176,640 sq ft of office space and 17,700 sq ft of leisure facilities.
The proposed site was previously a surface mine which opened in 1933 and closed in the 60s.
Planning permission was first applied for in May 2009, with the plans undergoing a series of amendments since then.
Planning consultant Stuart Winter, from Jones Lang LaSalle, said: "Notwithstanding the current tough market conditions, the proposed development could well provide a significant economic boost to Stirling, generating a significant number of both direct and indirect jobs for the local and regional economy.
"The site has great visibility to the M9 and would provide occupiers with great access to the motorway network."