Dundee roadworks reveal wooden 'setts'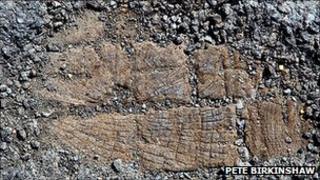 Renovation work on a Dundee road has unearthed thousands of wooden blocks that were used to pave streets instead of cobbles in the 19th Century.
The setts, laid in 1883, were often used as a "health and safety" measure to stop horses hooves sparking and setting fire to flammable goods.
They were found during resurfacing work on Whitehall Crescent and Whitehall Street in the city centre.
Setts were also installed to reduce noise and to create a smoother surface.
About 10,000 of the blocks, known in Dundee as "cassies", have been discovered.
'Deafening' noise
Dr Anthony Cox, lead tour guide of Tayside Historical Tours, said: "They were used for health and safety - you would get them around military dockyards and gunpowder factories.
"Horses' hooves on cobbled streets could cause sparks which would then set fire to flammable goods.
"They were brilliant when transport was horse-bound because the noise was just so loud from them, it would have been deafening on the stone cobbles.
"They would use them in the countryside around big houses to reduce the vibrations."
Dr Cox said the setts were made with pine, with an expensive hardwood like teak and mahogany on top.
He said: "Dundee's streets were paved with something that was worth more than gold.
"Prices of hard wood were coming down but they were still very expensive as they had to come from South America or East Asia. In Dundee they mainly came from Burma."
Jute trade
The wooden setts were used all over Dundee, including Victoria Street, Dock Street and Bank Street.
Dr Cox said they were likely to have been installed in some places because of the jute trade.
He added: "Jute is incredibly flammable and would sometimes spontaneously combust.
"When they were transporting it to the mills from the docks, metal wheel trims on the carts could cause sparks on stone cobbles, so they used wooden ones."
The 10,000 recovered blocks are currently being stored by Dundee City Council.