University of Stirling sets tuition fees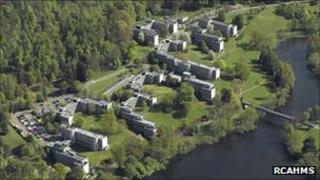 Stirling University has set its tuition fees for students from the rest of the UK (RUK).
Undergraduates from England, Wales and Northern Ireland will be charged £6,750 a year from 2012.
This would mean a four-year degree course would cost £27,000, which the university said was "in line" with fees set by other Scottish universities.
A new range of bursaries will also be introduced in 2012, and will be available to Scottish and RUK students.
The university said that "suitably qualified" students could also go straight into the second year of their degree course.
'No choice'
Undergraduates who are resident in Scotland do not pay tuition fees at Scottish universities.
Currently, RUK students in Scotland pay about £1,800 in tuition fees. The increase in tuition fees for students not living in Scotland came after the UK government raised the cap for universities in England to £9,000 a year.
Professor Gerry McCormac, principal and vice-chancellor of Stirling University, said: "The University of Stirling has always believed that access to higher education should be based on ability, not background or the ability to pay.
"As a result of the new funding arrangements, Scottish universities have no choice but to charge fees for students from the rest of the UK.
"At Stirling, our bursaries and scholarships will assist eligible students to attend university and encourage wider participation in higher education."
Professor McCormac said that, like other Scottish universities, Stirling would remain free "at the point of entry", with students repaying fees after they started work and earn more than £21,000 a year.