River Teith canoeists saved in 'dangerous' rescue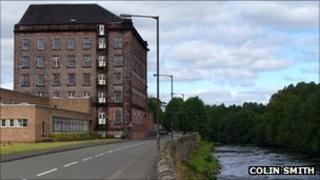 Two canoeists were rescued from a river near Stirling after becoming trapped on a concrete wall beside a weir.
The men called for help after getting stuck on the River Teith near the Deanston Distillery, Doune.
Two fire services, the police and a Royal Navy helicopter were involved in the "extremely dangerous" operation on Saturday evening.
One of the men was rescued using a throw line and the other was winched into the helicopter.
Both of them were taken to hospital.
Central Scotland Fire Service said it was alerted at 17:00, and called in the assistance of Strathclyde Fire and Rescue Service, Central Scotland Police and the Royal Navy.
A spokeswoman for the fire service said fire crews from Doune and Stirling had used a throw line and life vest to reach the first of the canoeists at about 17.48.
He was treated by paramedics on the riverbank before being taken to hospital.
The helicopter rescued the second man in the dark at about 19:30 and took him to the Southern General Hospital in Glasgow.
Station manager George Carson, from Central Scotland Fire, said: "We were working in extremely dangerous conditions and we worked closely with our colleagues at Strathclyde Fire and Rescue Service, Central Scotland Police, and the Royal Navy, to ensure that both canoeists were removed from the water in the safest and quickest way possible."