Lottery grant to halt bumblebee decline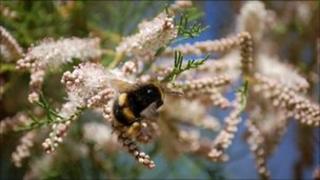 A project to conserve endangered bumblebees and their habitats has won a £340,000 grant.
The Bumblebee Conservation Trust (BBCT) is about to embark on a three-year programme to protect some of the rarest bumblebees in the UK.
Over the past 70 years there has been a "dramatic decrease" in UK bee numbers, the Stirling University-based trust said.
The grant was awarded by the Heritage Lottery Fund (HLF).
Members of BBCT will work with landowners, farmers, the public and schools to raise awareness of the the importance of bees and how to protect them.
The trust said the total value of pollination by bumblebees in the UK exceeded £400m, with fruits such as raspberries, strawberries and tomatoes dependent on them.
But two species of bumblebee have become extinct in the last 70 years and six of the remaining 24 species are listed as endangered.
Inbreeding bees
Loss of habitat has been blamed for much of the decline, with flower-rich grasslands reducing by 97% since the 1930s.
Changes in domestic gardens - with modern preferences for decking and mown lawns - has also meant fewer flowers for the bees.
The BBCT said that fragmentation of the bee population also led to inbreeding, which made future extinctions of species more likely.
Chris Packham, BBCT President, said: "This is great news for bumblebee conservation in the UK.
"The funding boost from HLF will enable the Bumblebee Conservation Trust to better reach and engage with the general public on this important subject.
"The funding will also significantly increase the volume and quality of conservation work that they can undertake, helping to safeguard populations of some of our rarest and most beautiful bumblebees."