Ann Gloag to receive Eleanor Roosevelt Award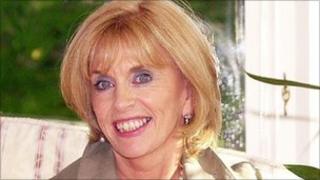 Ann Gloag is to receive the prestigious Eleanor Roosevelt Award in New York State this Sunday.
The co-founder of Stagecoach is to be presented with the award at the 25th anniversary celebrations of the Eleanor Roosevelt Center.
The medal honours individuals who carry out the values which Eleanor Roosevelt espoused in her public life.
Ms Gloag, who was born in Perth, is being honoured for her charitable work over the past 30 years.
'Forgotten women'
In particular she is receiving recognition for establishing the Freedom From Fistula Foundation in 2008 to help provide free medical care to some of the two million women in Africa who have been injured in childbirth.
Ms Gloag said: "It is a huge privilege to have been chosen to receive the Eleanor Roosevelt Val-Kill Medal as the former First Lady of the United States was such an inspirational and well-respected woman, advocate and leader.
"I have been intimately involved in charitable projects for more than 30 years, but the last three years have been particularly focussed on helping the forgotten women of Africa - women who have been seriously injured in childbirth, leaving them rejected by their families and outcasts in society.
"It is not a trendy or popular cause and that is why it is so important."
Kathleen Durham, executive director of The Eleanor Roosevelt Center, said: "We are delighted to be honouring Ann Gloag and the other medalists on the 25th anniversary of the centre.
"Ann embodies the spirit and leadership displayed by Eleanor Roosevelt during and after her years as first lady and this year's outstanding medalists are further proof that 'one's philosophy is not best expressed in words; it is expressed in the choices one makes'."
Ms Gloag's other charitable work includes running an orphanage and building a school in Nairobi, Kenya, setting up a women's rescue centre with the co-operation of the Massai chiefs and supporting the international charity Mercy Ships, which provides free medical services and humanitarian care to the poorest people around the world.
She also supports a wide variety of charities in the UK, including The Princess Royal Trust for Carers, Marie Curie Cancer Care, Opportunity International, The Institute of Cardiovascular Research (TICR) Appeal in Dundee and The Prince's Trust.