East Stirlingshire FC give free tickets to armed forces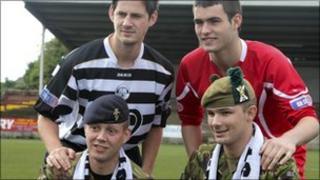 East Stirlingshire FC is to launch a new initiative to honour the men and women of the armed forces by giving them free entry to home matches.
Anyone who can produce a forces ID card or a veteran's badge, will now get into Ochilview Park free of charge.
The scheme is the brainchild of club director Tony Ford, a retired former naval officer.
Mr Ford said he hoped the initiative would inspire other clubs around the country to introduce similar schemes.
He said: "It may seem a small gesture but having served for more than 30 years myself and seeing it first hand, I think anything that we can do to honour the dedication and bravery of our forces is important.
"We've been talking for some time to ex service groups and it fits well with charities like Tickets 4 Troops and Stubbs who have already identified entry to sporting events as away of thanking our forces."
"I'm really hoping we can build up a bit of momentum with this.
"I'd like to see the day that our forces personnel and veterans could turn up at any football league ground and get in for free."
"In the meantime though, myself and everyone concerned with East Stirlingshire Football Club look forward to giving a warm 'Shire' welcome to anyone taking up the offer."
The initiative is to kick off with East Stirlingshire's next home match against Berwick Rangers at the end of the month.