Bridies made in Broughty Ferry come to Forfar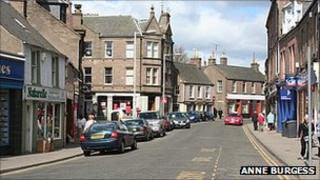 There will be no battle of the bridies in Forfar despite a new bakery opening in the town bringing in pastries made in Broughty Ferry.
Goodfellow and Steven opened a bakery in Castle Street on Monday.
Jackie Souter, the area manager of Goodfellow and Steven, insisted their bridies would not be called Forfar Bridies.
Angus council is working to get protected geographical status for the horseshoe-shaped meat pie product.
Ms Souter said despite Goodfellow and Steven bridies being made in Broughty Ferry, she did not expect to sell as many as the Forfar Bridies sold by the established bakeries in the town, McLarens and Saddlers.
She stressed the bakery had been opened in response to demand from the town and it would sell many other products beyond bridies.
Ms Souter added: "This week since we've been open we've had really positive customer feedback."
When asked whether her Broughty Ferry bridies were better than the Forfar bridies, she said: "It is up to the customers to decide."
Michael Saddler, who is the fourth generation of his family to run Saddlers bakers in Forfar, said: "We've been making Forfar Bridies since 1897, we really should know what we're doing now.
"Competition is everywhere, but business this week has been pretty good and we have still got the name of the traditional Forfar Bridies."