Doctor who 'lured' girls in Stirling has sentence cut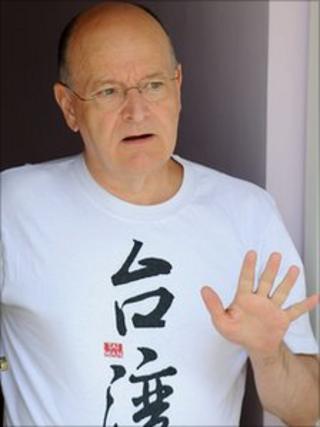 A doctor who was given a life sentence after trying to lure two young girls into his car has had his minimum jail term cut by more than half.
Leslie Mitchell, 58, from Falkirk, will now become eligible to seek his release but any decision to free him will lie with the parole authorities.
Appeal judges rejected a challenge to his lifelong restriction order.
Sentencing guidelines changed after test cases brought by rapist Robert Foye and paedophile Morris Petch.
Earlier this year Foye secured a reduction in his punishment part from nine years to four and a half years after being convicted of raping a teenager while on the run from Castle Huntly prison following the ruling.
Mitchell was originally ordered to serve a minimum term of four years before he could apply for release but the appeal judges said this would now be reduced to 16 months. He has been in custody since June last year.
The former Stirling Royal Infirmary casualty doctor originally admitted committing a breach of the peace in January last year at Webster Avenue, Carronshore, in Stirlingshire, by engaging the girls, aged 10 and 11, in conversation, asking if he could tickle their legs and and attempting to entice them into a car.
The first offender described himself to a social worker who was asked to prepare a report on him as a "recovering paedophile".
He revealed that he had previously taken part in similar conduct in 1993 and 1997 and began grooming young girls in chatrooms after gaining internet access in 2000.
He accepted that he had met the two girls with the intention of grooming them to commit sex offences against them.
Risk to public
Sentencing Mitchell last year, Lord Hardie told Mitchell: "The terms of the charge really don't do justice to what was actually happening in this case. It became clear that your clear intention was to ingratiate yourself with these two little girls, ultimately to take them away and have sexual intercourse with them."
In imposing the lifelong restriction order on the doctor he told him: "The effect of that is you may never be released from prison."
Mitchell challenged both the imposition of the life sentence and the length of the minimum term, or punishment part, during his appeal.
His solicitor advocate Murray Macara QC argued that the indeterminate sentence was "unnecessary and inappropriate" and that the period set that he must spend in jail was "excessive".
Lord Carloway, who heard the appeal with Lord Bonomy and Lord Brodie, said they were satisfied that having regard to the risk to the public, the sentencing judge, Lord Hardie, was correct in imposing the indeterminate sentence.
The court heard that Mitchell discovered through freedom of information that earlier this year, of the 77 offenders who have received Order for Lifelong Restriction (OLRs) in Scotland, none had yet been released back into the community.
Mitchell is due to have a General Medical Council hearing to consider whether he is a fit and proper person to be registered as a doctor later this month.