'Secret' auction for Birks Cinema funds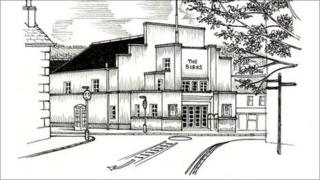 A "blind" auction of drawings - including some by leading artists - is to be held by campaigners hoping to restore a Perthshire cinema.
The event is being held by a group campaigning to restore the 1930s Birks Cinema in Aberfeldy, which closed almost 30 years ago.
Leading artists Richard Demarco and Philip Hughes have donated postcard-sized works to the auction.
More than £1m is needed to reopen the building as a working cinema.
Hollywood actress and screenwriter Emma Thompson has also contributed a drawing, as have other local artists and art students at Breadalbane Academy.
The auction will be held in Aberfeldy on 28 October. Bidders who win items will only learn who the artist is after winning the item.
Julia Watson, Birks cinema trustee, said: "The range and quality of works already submitted is fabulous, and we hope lots of people will come along on the night and find pictures they'd love to hang on their walls.
"The event will not only raise vital funds for the cinema project, but it'll be a showcase for the wonderful artists we have in the area, and we very much appreciate the kindness of all the artists and of Emma Thompson in giving us their support."
All works will go online and bids can be made via email in advance.