T in the Park festival-goers fined over drugs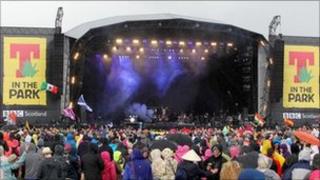 A sheriff has fined a dozen T in the Park revellers who admitted taking drugs into this year's festival.
Among those caught were a company director whose sister is a police officer and a joiner who was found with cocaine hidden in his boxer shorts.
The fines issued by Perth Sheriff Court for the drugs offences totalled £2,900.
More than 80,000 people attended the 2011 festival in Balado, Perth and Kinross. Police reported arrests were down by 20% on last year.
Fiscal depute Nicola Manison told the court that Graeme Colvan was searched and discovered with "a substance within his boxer shorts". It was found to be cocaine with a street value of about £100.
Colvan, 25, from Springburn, was fined £200.
Businessman Christopher Carslaw admitted having more than £200 of cocaine and six ecstasy tablets at the festival on 9 July this year.
Solicitor Kieran Shah, defending Carslaw, said: "He holds his hands up to this and takes full responsibility for his actions. He is 25 and has been running a family steel fabrication business for four years since his father died.
"He works seven days a week. He describes what he did as the silliest thing he's ever done. He is embarrassed and ashamed.
"He feels like he has let his mother down, and his sister who has recently joined a police force."
Carslaw, from Coatbridge, was fined £400.
'Stupid decision'
The court heard that Graeme Docherty was caught after police sniffer dogs raised the alarm when he tried to enter the festival site on 9 July.
Docherty, 32, from Glasgow, said: "I have broken the law of this land and I accept I must be punished.
"On the day in question I was attending T in the Park and for the first time in my life I decided to try drugs. It was a stupid decision."
He was fined £150 pounds.
Nine other people were also fined by the court for taking drugs into the festival.